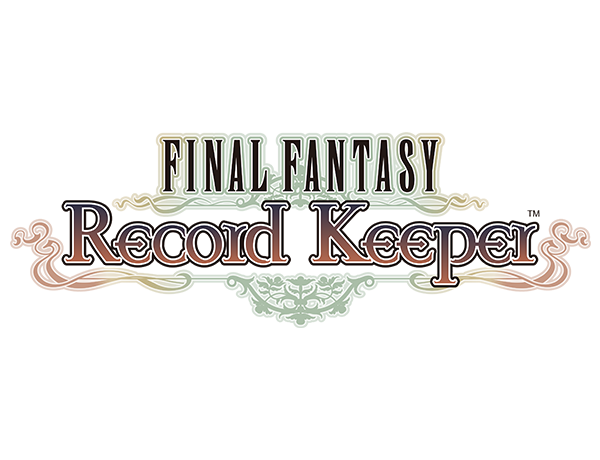 The FINAL FANTASY 30th Anniversary Parade is coming soon!
Fierce battles, tantalizing rewards… We're pulling out all the stops to celebrate this landmark occasion!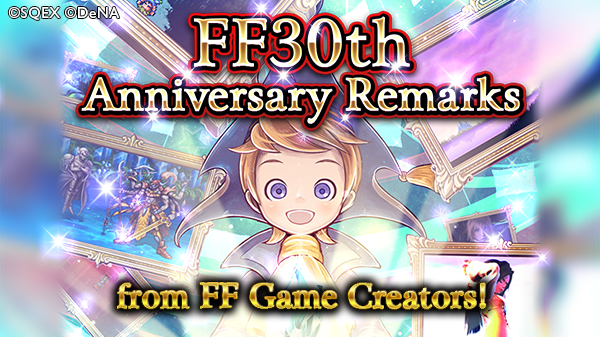 The login screen and the Home screen will play a special music arrangement just for the occasion. Four different arrangements of the 30th Anniversary background music will play at random.


The event will include a login bonus. By logging in for 10 days, you'll get a 5★ accessory--the 30th Anniversary Potion--as a gift.


Remarks from famous creators of the FF games will be posted in-game every day for one week.


17 FINAL FANTASY 30th Anniversary dungeons will be opened, one for each title in the series. Complete them all to reveal a special 30th Anniversary image and get an Ultra Soul Break for a certain unsung hero!


In the Mythril Dungeon, Treasure Hollow, you'll receive 30 Mythril upon completion. There are two phases of this dungeon, so you'll actually receive 60 Mythril in all!


Fans of FINAL FANTASY III know well the perils of the Crystal Tower, and in the 30th Anniversary event, the new Crystal Tower dungeon will present a new kind of challenge. To defeat all six bosses, you'll have to use 25 different FF heroes.

The FF 30th Anniversary Parade will commence from 9/24 5:00 PM (PST).
Featured Relic Draws
In line with the festivities, there will be a once-only FF 30th Anniversary Free Relic Draw. By using this Free Relic Draw, you will receive 30 Relics for free, and one 6★ Overstrike Soul Break is guaranteed.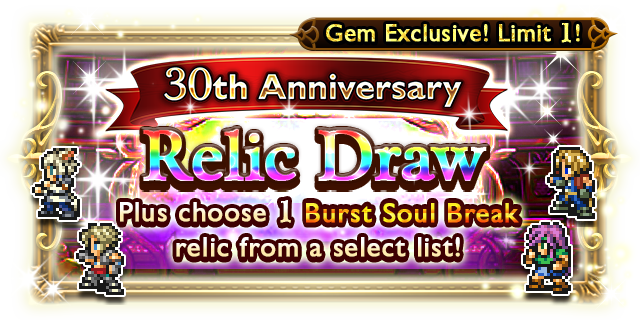 The FF 30th Anniversary Selection Relic Draw will start at 5:00 PM 9/27 PST (1:00 AM 9/28 UTC). By using this 11x Relic Draw, you will be able to choose one piece of equipment with a Soul Break from a lineup of that represents all of the FF titles in the game.
Enjoy playing FINAL FANTASY Record Keeper!
FINAL FANTASY: Record Keeper is available as a free download on the App Store for iPhone, iPad and iPod Touch and on Google Play for Android devices.